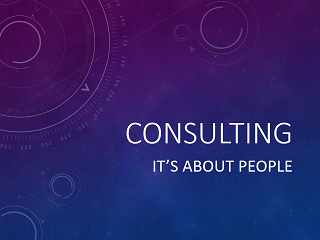 A lot of my posts are highly technical, but I also spend a lot of time thinking about and working on what some call "The soft skills." I love helping others use technology better. In order to get better and more interesting opportunities, I try to be the best consultant I can be. I'm writing about 8+ rules I try to live by in my consulting business? I've shared the first 3 below.
#1 Be Friendly
The best-selling sales author Jeffrey Gitomer likes to quote and old adage, "All things being equal, people want to do business with their friends. And when all things are NOT equal, people STILL want to do business with their friends." Being friendly earns you consulting business. It also makes that business more fun for you and your new friend. Think about your personal relationships. When you're in a tough spot, who do you go to? The people you are closest to are naturally on the top of your mind. Your clients are the same way. As a consultant, you're an expert. If you want to be a go-to consultant, be a friend first. Speak with passion. Use your natural humor. Find the things you have in common. Smile.
#2 Listen
This could easily be the #1 Rule of Great Consultants, except for one thing. If you're not friendly, you may not get the chance to listen. However, listening is also the key to a great friendship. To be a good consultant, you need to be able to speak confidently. To be a great consultant, you need to listen. A consulting engagement always starts with understanding why you've been called on. To truly understand, you need to be an active listener. Ask questions. Show that you are giving your full attention to the answers. Listening goes beyond just the words your clients say to you. Body posture and facial expressions can be a big part of communication and it's especially important when starting a relationship. Seek out opportunities for face to face or at least camera to camera meetings. It's easier for you to see what the real meaning behind the words is face to face. And it's easier for your client to see that you really are interested.
#3 Always Be Prepared
I was a Boy Scout for 15 months. I joined before summer camp one year and quit just after camp the next. I may have only earned 5 merit badges, but I guess at least one thing stuck. The Scout Motto. To me, as a boy scout, this meant packing the right clothes and food and brining the right gear.
As a consultant, this means maintaining your expertise, researching your client and keeping good notes. The first two will become obvious after any length of time consulting. To be an expert at something you must always be learning. You have to know what you don't know, but also know as much as you can about your consulting subject. Applying what you know about your field to your client requires understanding their particular circumstances. When beginning a new client relationship, it pays to do your research. Your client will want to tell you about themselves. That is natural. The more you know ahead of your first meeting, the more commonalities you'll be able to find.
A lot of what you know about your client over the long term should be learned from them. That's where keeping good notes comes in. A great consultant earns repeat work. When you have your second meeting, there's no better preparation than reviewing the notes from your first!