Did you know that SharePoint 911 is now part of Rackspace SharePoint Services? When you're looking for the experts from SharePoint911, you'll probably see them with Rackspace shirts on and often at the Rackspace booth. Also, they're very active presenting, signing books and working with the community.
The Rackspace booth is number #704 and it's in the 6th row of exhibitors when you head forward with your back to the main entrance of the Exhibit Hall.
As part of the team, I'll be doing book signings at the Rackspace Booth and the O'Reilly Booth and I will be volunteering at the Community Lounge for the San Antonio SharePoint Community. I'll also be checking in at the Rackspace booth everyday when I'm not attending sessions.
Book Signings at the Rackspace Booth
Look in your attendee bag for a coupon for a free, signed book from the Rackspace book. Bring the coupon to the booth at one of these times to claim your book. Quantities are limited, so line up early to make sure you get one.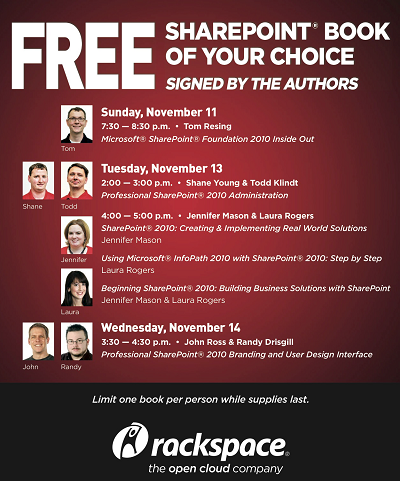 Presentations by Rackers
Rackspace employees are affectionately known as Rackers. This year Rackers will be making quite a few presentations. Watch out for special opportunities for session attendees. I hear there may be giveaways.
Shane Young & Todd Klindt Monday, November 12, 2:00pm-3:15pm
What's New with Service Applications in SharePoint Server 2013
Reef Room
John Ross & Randy Drisgill Wednesday, November 14, 9:00am- 10:15am
Creating Your Brand in SharePoint 2013: On-Premises or In the Cloud
South Seas Ballroom CDFJI
John Ross & Randy Drisgill Wednesday, November 14, 1:45pm—3:00pm
Planning and Creating Well Designed Intranet Sites in SharePoint Online
Breakers Room
Jennifer Mason & Laura Rogers Wednesday, November 14, 6:45pm—7:00pm
Document Trafficking: Now safer than ever with External Users
Microsoft SharePoint Pavilion in the Exhibition Hall
Jennifer Mason & Laura Rogers Wednesday, November 14, 7:10pm-7:25pm
From Zero to SharePoint Hero: 5 Easy Steps for bringing Business Value to Collaboration Solutions
Microsoft SharePoint Pavilion in the Exhibition Hall
Shane Young & Todd Klindt Thursday, November 15, 2:00pm-5:00pm
SharePoint 2013 Deployment and Administration End to End
This is a post conference session with additional cost – Registration.
Microsoft Press Book Signings
O'Reilly is hosting book signings all week at their booth. Rackers who have co-authored Microsoft Press books will be there at the following times:
Monday, 3:15PM Laura Rogers with Darvish Shadravan signing Using Microsoft InfoPath 2010 with Microsoft SharePoint 2010
Wednesday, 6:15PM Jennifer Mason with Wes Preston, , Christian Buckley and Brian Jackett signing Microsoft SharePoint 2010: Creating and Implementing Real-World Projects
Wednesday, 7PM Tom Resing with Penelope Coventry, Jonathan Lightfoot, Michael Doyle, Troy Lanphier signing Microsoft SharePoint Foundation 2010 Inside Out
See also: Full schedule of Microsoft Press book signings
Microsoft SharePoint Community Lounge
Jennifer Mason and Tom Resing will be at the Community Lounge with other SharePoint Community Leaders on Wednesday from 4:30-5:30PM.
The Community Lounge is located at the back of the Exhibit Hall on Level 1, Bayside C. Event organizers say the Community Lounge is the place to be at SPC12 – aside from our time at the User Group kiosk, there will also be an interactive mural wall, an interactive timeline, book signings, and live interviews with top Microsoft personalities.